New York Construction Accident Lawyer
While construction sites offer many benefits such as work and employment opportunities, they can pose a great threat to those who are involved in the construction of these buildings. Every year there are many accidents that occur and many individuals who are serious injured in these accidents. Crane accidents at a construction site, defective equipment, slip and fall, there are many types of accidents.
In 2011 there were 128 construction accidents and 152 individuals who were injured in these accidents. In 2010 four people were killed in a construction accident and five were killed in 2011. At Jeffrey J. Shapiro & Associates, LLC we offer legal assistance to those who have suffered an injury in a construction accident.
There are many different types of construction accidents that can occur on a construction site, some of the more common ones include slip and fall accidents and falling objects. Read more on the different types of construction accidents.
We provide you with the skillful assistance that you need if you are seeking to obtain damages for the injuries you have sustained: Contact us today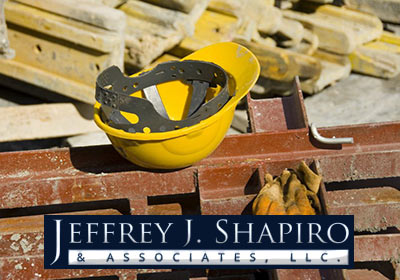 "Let me start by saying I am a union carpenter, local 926 concrete carpenters. I was hurt badly on the job and refered to Mr. Shapiro by one of my union brothers. Thank God that he reviewed my case and handled it as if it were his only case! He became my lawyer and friend. He stuck by me and gave me the encouragement I needed to get healthy again as well as handle my case with the utmost care and concern. During a time when my family and I have been going thru some rough storms Jeffrey has stuck by us and done his best and then some to facilitate me and mine. If I ever have another situation where I need legal advise or anything anywhere near it, he is the first person I would always call, and always will. I would not only recommend Jeffrey Shapiro as a lawyer,but also as a friend and confidant. His staff is very helpful and caring in matters where most wouldn't be! Plainly put, wouldn't ever use anyone else!"
Terrance Ray Rivera - Victim of a Construction Site Accident
On just about any construction site in the New York City area you'll see large and small cranes. Some cranes have mechanical malfunctions which can lead to injuries of the crane operator. Other cranes can collapse due to a variety of reasons. If you've been injured while operating a crane in New York City, we can help.
Scaffolding is designed to support workers, tools and materials, however accidents can occur where the scaffolding is not properly constructed and can result in serious accidents for many individuals. Read more on how we can help with scaffolding accidents.
Ladders are a very common tool that are used in various construction projects, these are designed to hold a specific amount of weight and when a defective ladder is used that does not support the assumed weight, the results can be very serious depending on the height of the ladder. Read more if you've been injured in a ladder accident in NYC.
When beginning a new building project as opposed to renovating an old building, there are many risks involved in the process, there are materials that may need to be lifted to great heights and there is a great risk for falling objects to cause injuries. Read more if you've been injured in a new building construction site.
There are many risks associated with building renovation, there could be unseen obstacles, water damage that can result in an employee falling through the roof or a high level. There is also the risk of falling objects due to removing materials and renovating the premises. If you've been injured on a construction building renovation site, read more.
It is the responsibility of your employer to provide you with a safe work environment and when the job site you are working at is unreasonably unsafe then your employer may be held liable for any injuries you incur due to this dangerous site. Read more on how we can help if you've had an accident on a dangerous job site.
When you are injured by the use of a defective product then this may be a case of product liability where the manufacturer may be held liable for the injuries you have sustained because they produced a defective product. Read more about defective equipment accidents.
If you are injured in an accident that was caused by the negligence of your coworkers then you may be entitled to collect monetary compensation for your injuries. You and your coworkers are bound by various safety rules and regulations in the workplace, violating these rules can result in serious injury. Read more about accidents that occur due to unsafe work practices.
Are you unsure if you have a case, or if you are entitled to legal representation and compensation? Browse through our list of frequently asked questions regarding construction accidents. You'll find everything from how much you can request, to damages recoverable, to the type of case you can push for.
Just about any new large building, commercial building, or large construction site has a trench line running through it, perhaps a couple trenches. Falling within the trench is no fun, sometimes collapsing, causing serious injury. Read more on how we can help you if you've been injured on by a trench in a construction site.
There are all types of machines used in and around construction sites throughout the New York City area. Doesn't matter if you're in Manhattan, the Bronx, or downtown, accidents do happen every day on constructions sites. Just about every type of machine on any given construction site has been involved in an accident. If you've been injured in by a machine on a construction site, we can help.
Every construction worker has seen items fall from far above. Hammers, powertools, hardware, etc... it all has taken a fall from 2 stories up, or 60 stories up. People that are used to construction sites are always reminded to be aware of falling debris or equipment. If you've been injured from falling debris on a construction site, contact us immediately.
There are cracks, spacing, vent holes and much more that anyone can caught in between, while on a construction site. New additions are being build hourly, or daily and keeping up with where is safe and not safe is on the top of everyone's mind. Have you been injured by being caught in between a crack or object while working on a construction site? Give us a call to see how we can help.