Pedestrian Accidents Can Happen in a Variety of Ways
Pedestrians Hit by Cars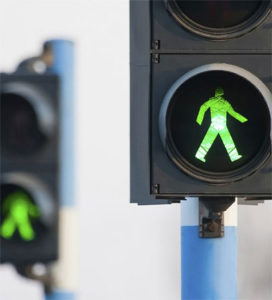 While crossing the street in a crosswalk is the safe thing to do, it is does not prevent an accident caused by a careless driver. Similarly, just because you cross the street in the middle of the block doesn't mean that if you get hurt it is automatically your fault.
The Vehicle and Traffic Law of the State of New York requires drivers to always yield to pedestrians and to drive in a manner that will not injure pedestrians. We know the law and make sure our clients are fully protected by it.
New York has a no-fault law, which provides certain protections to people who sustain a personal injury as the result of a vehicular accident. Under this law every injured person is covered for medical and out of pocket expenses for up to $50,000, regardless of fault. No fault pays for hospital expenses, X-rays and doctor's bills and will provide some compensation for lost earnings.
An application for no fault benefits, however, must be filed within 30 days of the date of the accident. This short filing period means that an injured person must act immediately after an accident in order to protect his or her rights.
We file all the necessary no fault applications for our clients. We also process our clients' bills and make sure they get all of the benefits to which they are entitled. We will also address any appeals or hearings if no fault benefits are denied or interrupted. In short, we take care of all of the needs of our clients.
Pedestrians Injured by Buses
We list this as a separate category because some specific rules apply to these cases.
In many instances, buses are operated by a municipal agency. In New York City, many buses are operated by the New York City Transit Authority. This means that in addition to the No Fault filing requirements discussed above, a document called a Notice of Claim may need to be filed within 90 days of the date of the accident. We take care of the filing of all documents for our clients.
Pedestrians can be injured not just by being hit by a bus but also as the result of driver carelessness while getting on or off the bus or while the bus is moving.
Some examples of the cases we have taken include:
$2,950,000 recovery for 17 year old girl who suffered scarring on her leg as the result of a bus rollover
Pending lawsuit of mother and child struck by NYC bus while crossing street, with the child killed in the accident
Pedestrians Injured Due to Roadway Defects
We have represented clients in many cases of pedestrians who have been injured because of defects in the roadway. These include potholes, depressions, missing manhole covers, and so on.
Our first job in representing someone injured in a roadway is to determine who is legally responsible for the condition. We will send an investigative crew to the scene of the accident to take pictures, measurements and whatever else is needed to preserve the evidence necessary to make out the case. We will also search work permits, records and any other data necessary to find out who is responsible for the condition.
Save