What are slip and fall accidents?
Out of all of the types of accidents that people can suffer, slip and fall incidents are among the most common. It is not unusual for thousands of slip and fall injury claims to be made on a yearly basis because there are numerous ways these accidents can occur.
In fact, the Centers for Disease Control and Prevention (CDC) reports that over one million Americans suffer a slip, trip and fall injury every year. As a result, more than 17,000 people die every year because of these accidents. Out of all job-related injuries, slip and fall injuries comprise 17% and account for 12-15% of all workers' compensation expenses.
These accidents may not seem serious compared to car accidents or medical malpractice cases, but a slip and fall commonly cause traumatic brain injuries, bone fractures, spinal cord injuries, incapacitation, long-term medical complications, and even death. Our firm believes that slip and falls should be taken seriously, and we fight hard to protect the rights of victims who have been injured in these accidents.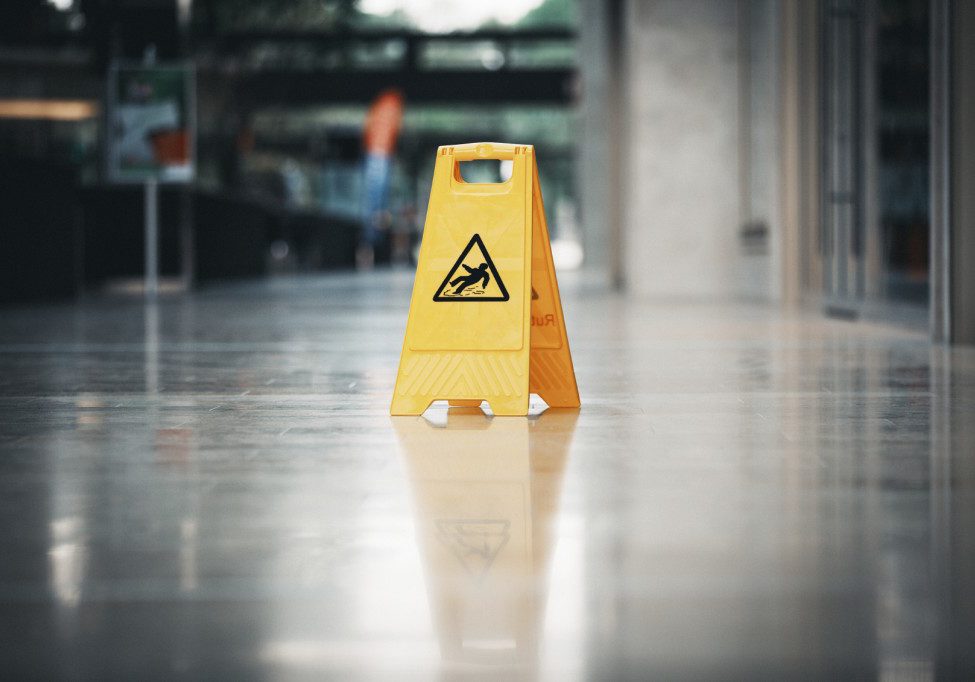 Types of Slip and Fall Accidents
From slippery surfaces to stairway accidents, parking ramp falls, and sidewalk falls, there are numerous types of slip and fall accidents that one can suffer. Property owners have a legal obligation under premises liability law to keep their property in a safe condition for anyone who is on the property, and our team has seen the horrible injuries that can happen when property is not safely maintained. The CDC has categorized these accidents into two main types: same-level falls and elevated falls.
Same-level falls
Same-level falls happen more often and as a result, cause injuries to more people, but elevated falls tend to more serious. A same-level slip and fall accident typically happens when an individual slips on a walking or working surface and then hits another object during the course of falling down. Many of these incidents are not serious and the individual can walk away with few injuries, but approximately 20% to 30% result in moderate to severe injuries. These severe injuries bring along costly medical expenses for surgeries and rehabilitation, along with the costs of lost wages, and many injury victims are also impaired and hindered from living independently.
Elevated falls
The other type of slip and fall accidents are those that occur from elevated heights. These are the most serious, and approximately 60% of elevated falls take place from a height of less than 10 feet. Every slip and fall accident is unique, however, and our team of New York slip and fall lawyers at Jeffrey J. Shapiro & Associates is prepared to investigate your accident with fresh eyes. If we are able to prove that a property owner acted negligently and knew or should have known about the dangerous condition that caused your slip and fall, you may be compensated for your injuries through a claim.
Elements in an Injury Claim
When you contact our firm about your accident, we will first take steps to identify each of the factors that may have played a role in your accident. If you were injured by slipping on snow or ice, we will investigate whether or not the accident was caused by the property owner's negligence. According to New York law, property owners are given a "reasonable" amount of time to remove snow and ice from their premises. They may not be able to do so, for example, if a storm was in progress. Depending on whether your accident took place because of an unnatural buildup of ice or snow, or because a property owner did not provide regular maintenance on their sidewalks, our firm may be able to seek compensation for your pain and suffering.
The first question we will ask in reviewing your accident is "Did the property owner use common sense?" If there was something that a property owner should have reasonably known was dangerous, and they simply failed to take reasonable care, then you likely have the right to seek compensation. Our legal team will take every factor into consideration, investigating whether you tripped over a broken or uneven area of carpet or flooring, and finding out whether or not the owner had a schedule for regular maintenance.
If you have fallen down stairs that are broken or defective, keep in mind that property owners have a legal responsibility to keep stairs the same height and depth and free of all debris or other obstacles that may cause an accident. Stairwells should also be well-lit with sturdy handrails and should be regularly maintained. Regardless of where your injury occurred, you should never assume that you were completely to blame. Here at Jeffrey J. Shapiro & Associates, we have seen far too many accident victims go without the compensation and justice that they deserve because they did not understand their legal rights as an injury victim.
Contact Jeffrey J. Shapiro & Associates
Over the years, our experienced team has assisted thousands of individuals with their injury cases, and we have successfully obtained maximum compensation for many of them and their families. This financial compensation may be used to cover the costs of present and future medical care, lost income, reduced ability to earn an income, and more. While we all have a responsibility to watch where we are going and to act carefully, property owners also have a legal duty to keep their property reasonably safe. 
Contact

a New York personal injury attorney at our firm today for a consultation to discuss your accident and the possibility of compensation.