Injured while working in an office?
While many people assume that "white collar" workers are less at risk of suffering workplace injuries than those who are employed in industries such as construction or manufacturing, the fact is that office workers are commonly hurt in accidents on the job or suffer from injuries caused by the conditions of their work. If you have been injured and want to take steps toward recovering the largest possible settlement for your accident, contact Jeffrey J. Shapiro & Associates, LLC for help.
We have more than thirty years of experience and have represented thousands of people in accident claims, and we are known for winning large settlements and jury verdicts for our clients. Let our legal skill and dedication to results work for you!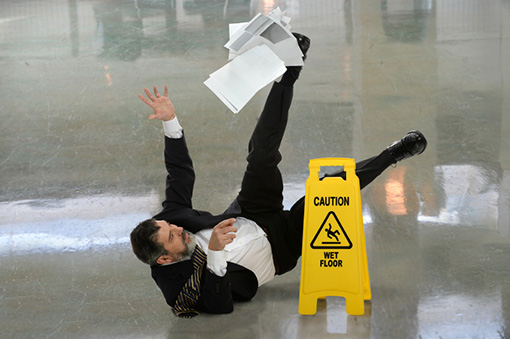 Common Types of Office Accidents
Slip and fall accidents are among the most prevalent in office environments, whether they happen as a result of tripping on loose computer cables, boxes or open drawers, or if they occur when the accident victim is on a step ladder or staircase. Many of our clients come to us for help after suffering back injuries or muscle strains while lifting boxes or other items, injuries which can result in an extended period out of work and which sometimes will not fully heal. If you suffer from a repetitive strain injury such as carpal tunnel syndrome, you are most likely entitled to financial compensation, as well as if you have developed back or neck problems caused by sitting at a desk for prolonged periods.
Strategies for Recovering Compensation for an Office Injury
You are most likely entitled to file a workers' compensation claim, which provides benefits regardless of who is at fault for causing your injury. Unfortunately, workers' comp will only pay for necessary medical expenses and wage replacement calculated at two-thirds of your average weekly wage multiplied by your disability rating, which may not be sufficient for you to support your family.
If, however, it can be proven that defective tools/equipment or the negligence of someone other than your employer is the cause of your accident, an attorney from our firm can represent you in a "third party" liability claim, which makes it possible to recover comprehensive compensation for lost wages, medical expenses and damages for your pain and suffering. Contact us now to explore your legal options and to allow us to begin working on your case immediately!
Call our office today to get the legal representation you deserve: 800.728.5478