Crane Collapse Injury – Personal Injury Attorney – New York
Searching for a crane accident attorney after sustaining an injury or death of a loved one can seem like a huge undertaking, requiring time you don't have and a financial investment you'd rather make elsewhere. Jeff J. Shapiro & Associates LLC is a NYC-based law firm that specializes in construction-related accidents, including crane collapse injury. Having tried cases in all of the major NYC courts, they have the experience and know-how to win your case while providing a caring and easy experience for clients who are already going through so much pain. After learning more about our practice, you will see that Jeff J. Shapiro & Associates LLC is the right choice for you.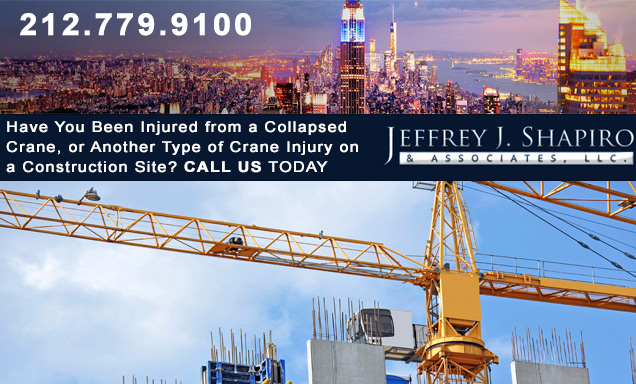 Over the years, we have helped countless clients who have experienced crane accidents on-site due to negligent management and unsafe work conditions. In some cases, crane collapse occurs when personnel are not properly trained on the machinery, resulting in an accident. Our attorney team would look into whether proper formal training was provided and whether crane supervision was adequate. In some cases, a crane accident is the result of a crane that was not appropriately maintained by the crane owner. We figure out who is to blame and start building our case. What we see most often in crane collapse injury cases is loads that were too heavy resulting in collapse and miscommunication between workers. Inappropriate use of equipment or even an installation problem is quite common as well.
Unfortunately, crane collapse injuries are commonly seen on construction sites in New York. Sustaining a construction-related injury can result in loss of wages and your ability to support yourself for a lifetime. The lawyers at Jeff J. Shapiro & Associates LLC completely understand how construction-related accidents shake up every aspect of your life, and we strive to provide understanding and justice to our clients who have been through so much.