New York Construction Accident Attorney
In an ideal world, protocols and state laws would be followed and employers would prioritize worker safety at all times. Despite many employers taking responsible precautions, construction-related accidents do happen and the aftermath has life-altering consequences. Having represented countless clients who have been the victims of on-site construction-related accidents, we have found that some employers fail to properly train their employers on how to operate equipment and even fail to inspect machinery and conduct maintenance, resulting in severe consequences.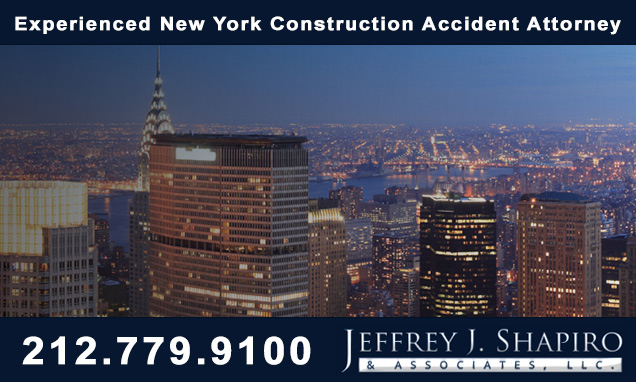 Most of our clients find themselves ill equipped to handle the financial and legal considerations after the accident. Jeff J. Shapiro LLC. is a NYC-based legal firm that is well-versed in state law and tried cases in all major courts in the NYC metropolitan region. With a proven track record of success as proof, we can affirmatively state that the lawyers at Jeff J. Shapiro LLC. will help you recover losses and move on with your life after such a devastating accident.   If you are facing medical expenses, insurance claims that make no sense to you, and are trying to plan your future medical needs, it is crucial that you contact a New York construction accident attorney with the experience and proven track record to help. We have also helped families who have lost a loved one in a construction accident.
What are the consequences of not hiring a construction accident attorney or hiring one too late? You can make costly mistakes if you file your accident claim after the deadline. Most individuals who have never been through this process before have no idea when their state's deadline would be. Insurance companies may offer you a settlement and it's important to decline. Your attorney can help you understand whether or not the settlement is in your best interest. Again, this is something most individuals who are navigating this process for the first time have no way of knowing.
If you want to forgo the lengthy process to vetting attorneys to trust with your case, go right to Jeff J. Shapiro LLC. Having tried construction-related injury cases in all major courts in the NYC metropolitan region, we know that we can help you too!