In Need of a Top-Rated Brooklyn Construction Accident Lawyer
Brooklyn Construction Accident Lawyer
Sustaining an injury due to employer negligence can be one of the most confusing and frustrating situations a person can be in. Wading through medical bills and insurance claims is confusing enough, on top of the physical and emotional pain one feels about the accident. If you are a construction worker in New York who has been the victim of an on-site construction-related accident, contact Jeff Shapiro & Associates LLC before continuing on with no representation. As a trusted construction accident lawyer in Brooklyn, New York, the firm has the necessary expertise to help you win the compensation you deserve. If you are looking for a Brooklyn construction accident lawyer, or a lawyer who represents clients across all boroughs, look no further than Jeff Shapiro & Associates LLC!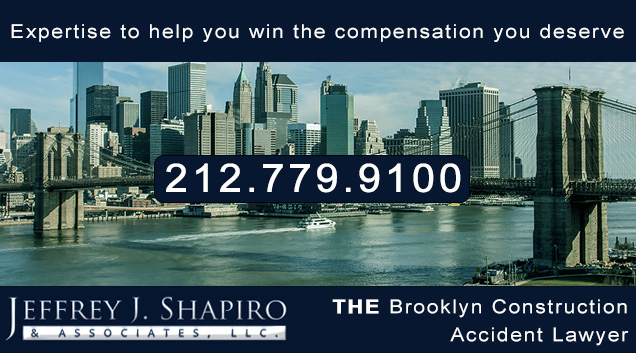 The Experienced Crane Collapse Injury Attorney
Construction is a dangerous industry and far too many construction workers find themselves working on unsafe work sites that do not follow New York Labor Laws. The law requires employers to provide safe work conditions for construction worker, protection to workers exposed to gravity-related risks, including falling objects, and outlines safety requirements that must be met on construction sites including protection from tripping and slipping hazards and barriers around construction elevators. On a daily basis, we see careless behavior on-site that results in falling objects, malfunctioning equipment, broken scaffolding, vehicle accidents, and crane collapses that can leave a worker injured or even dead.
Jeff Shapiro & Associates LLC has seen everything
Having tried cases in all of the major courts in the New York metropolitan region, we use our in-depth knowledge of the law and experience handling cases similar to your own to win you a settlement that will help you in the path ahead.
If you have been injured in a construction-related accident and need outstanding representation, look no further than Jeff Shapiro & Associates LLC. With empathy and understanding, we work one-on-one with our clients to fight for a just settlement and help clients rebuild their lives.